We are excited to begin the Pastoral Residency Program with our first Resident Pastor, Caleb Rolan
Our stated mission at Metropolitan Bible Church is to "love our ever-changing world with never-changing truth and grace." While our culture is dynamic, what will never change is a commitment to train and equip servants for the gospel ministry. The new pastoral residency program at Metropolitan is a tangible way to fulfill this goal.
One of my stated goals since my arrival has been the establishment of this program. In March of this year, I submitted a proposal to the elder board for a sound residency based upon research, conversation, and models that have been successful in other churches. After months of discussion and prayer, the elders unanimously approved the program. It then went to the deacons and the finance committee for discussion on funding mechanisms.
The deacon board approved the program's funding in the summer by designating the funds from a previous surplus. The deacons made it possible that no additional fundraising from the congregation is needed to finance this first iteration of the residency. This financial commitment is a reflection of the continued generosity of the congregation.
I am thrilled to announce that Caleb Rolan has been selected to be a pastoral resident at Metropolitan. In the next 20 months, Caleb will focus on reaching our community with the gospel, digital engagement strategies, building our young adult community, and developing servant-leaders in our church to reach others with the gospel. Caleb and his wife, Hayden, have been active members of our church for over a year, and he is finishing up his seminary education at Midwestern Baptist Theological Seminary. Their long-term plans are to be church planters.
You will surely get to know Caleb better in the following weeks as he exercises his spiritual gifts in our congregation. Both Caleb and Hayden have already blessed us with their ministry, and we expect both will benefit from this intentional program.
If you would like to learn more about the residency program, please see the attached link. Programs like this build exciting momentum as we look to fulfill the Great Commission in our city.
For your joy,
Pastor John
I am excited to have the opportunity to work at Metropolitan. I have a passion for helping people to know and love God, particularly college students and young adults. This residency will give me the chance to work with an amazing ministry staff, to serve Metropolitan, and to be prepared for future ministry work. I am looking forward to working with our community to build relationships and partnerships to share the gospel.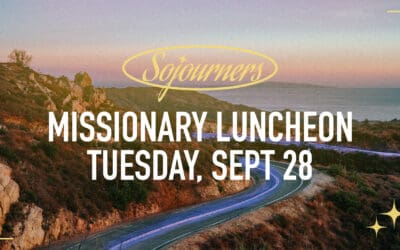 Special Opportunity for Sojourners Sojourners will have the privilege of hosting a lunch for our Missionaries, Staff and Missions Committee on Tuesday, September 28, at 11:30 am in the Fellowship Hall. This is a special occasion where we can "rub elbows" with our...