This year's Mission Festival is scheduled for September 26-29.
We are looking forward to having this event once again to challenge us in the area of local and world missions.
John Berger will speak on Sunday morning, September 26. John is Vice-President of Global Operations and Strategy at Crossworld. He grew up at Metropolitan Bible Church and is the son of the late Marley and Peggy Berger. John will lead us to consider what the gospel itself has in common with gospel ministry: pain, weakness, and death.  Our weakness and troubles open the way for God's grace and power. He supplies what we lack in and of ourselves, as we share such an incredible message with a lost world. 2 Corinthians 4:7-12 will likely be "home base" for the morning message. 
Be sure to come (or participate online) Sunday, September 26, at 9:30 a.m.
Guest missionaries will speak in our adult Family Groups (Sunday School) and student ministries at 11:00 a.m. the same morning.
Sunday night at 5:00 p.m., John Spadafora will speak. John is also with Crossworld and serves as Director of Church Connections.  Crossworld's vision statement includes, "All Professions. One Mission." Learning to live and love like Jesus and helping others to do the same is something all of us can do. John will help us to use where we are (not thinking we have to leave our job and do "full-time ministry"), but use our job or school setting, or place in life as a bridge to make disciples cross-culturally.  All of us are disciple-makers.  We can all live out the Great Commission "make disciples…" in our daily work and lives.  Come at 5:00 to learn more about this from our guest speaker.
There are other opportunities during the week to learn about the work of those missionaries whom our church supports. They are as follows:
Church members take missionaries to lunch
Monday & Tuesday p.m. – Members have individual missionaries in their homes for dinner (usually pot luck) and to share about their work.
Tuesday lunch – Missionaries with the Sojourners' Group (senior adults)
Wednesday p.m. – Panel discussion with missionaries followed by a dessert reception.
These events also provide opportunities to serve. We need housing and transportation for missionaries, and hosting for offsite gatherings. Click below for more information and to sign up!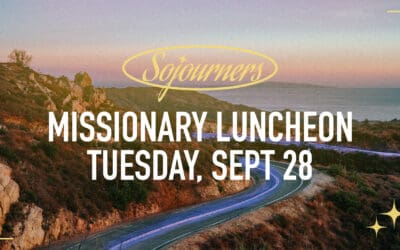 Special Opportunity for Sojourners Sojourners will have the privilege of hosting a lunch for our Missionaries, Staff and Missions Committee on Tuesday, September 28, at 11:30 am in the Fellowship Hall. This is a special occasion where we can "rub elbows" with our...