Worship Service Moved to Family Life Center Gym
Published September 03, 2020
Church Family,
Our Worship Center and adjoining lobby sustained significant water damage during heavy rains. For the time being, the Worship Center and main entrance are unusable as crews are performing clean-up and restorative work.

This means our 9:30 AM worship service will be held in the gym (Family Life Center) until repairs are completed. Sunday school, Metro Students, and Metro Kids programs will continue as normal in their respective areas. Also note that the gym is unavailable for activities during this time.
Finally, we ask that the parking lot area immediately outside of the Family Life Center doors be reserved for seniors and those with physical limitations. All entrances but the Worship Center entrance will be open Sunday.
-Pastor John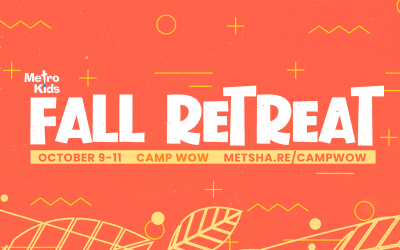 REGISTRATION NOW OPEN!Join us October 9-11 as we embark on a brand new adventure to Camp WOW! This year's Metro Kids Fall Retreat is for 1st-2nd Grade (with adult companion) & 3rd-5th Grade children. We will start with a hayride, bonfire, s'mores, and a sing...