Can you believe Christmas is just a couple months away?!
As such, it is time to begin rehearsals for our annual Christmas Celebration. We may have to do things a little differently this year but like most everything else this year, we'll figure it out together.
This year's Christmas music will involve singers 3rd grade & up AND instrumentalists 9th grade & up.
Singers who choose to participate in the Christmas Choir are asked to participate in at least 6 or more rehearsals. Options for rehearsals will be: Wednesdays, 7:15-8:00pm (Sept. 16-Dec. 16) OR Sundays, 4:00-5:00pm (Oct. 11-Dec. 13).
Instrumentalists who choose to participate in the Christmas Orchestra will need to attend no less than 3 rehearsals (times to be announced). We also plan to have other instrumental opportunities for non-orchestral instruments. More details on instrumental rehearsals will be posted soon.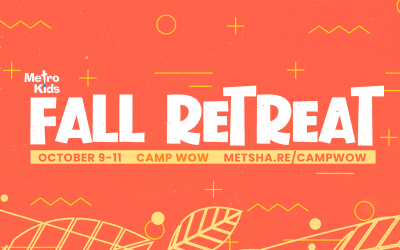 REGISTRATION NOW OPEN!Join us October 9-11 as we embark on a brand new adventure to Camp WOW! This year's Metro Kids Fall Retreat is for 1st-2nd Grade (with adult companion) & 3rd-5th Grade children. We will start with a hayride, bonfire, s'mores, and a sing...