I speak for the entirety of the church in thanking Trudy for her twenty years of selfless ministry here at Metropolitan. One of the distinguishing marks of her service was never to overlook even the most obscure of needs. Trudy will certainly be missed, and we will not be able to replace her. However, she has fostered a community of love which will carry out the legacy of her ministry for many years to come. In this way, she will still minister to the needs of our congregation and community. Thank you, Trudy, for counting others more significant than yourself (Philippians 2:3).
— Pastor John Frawley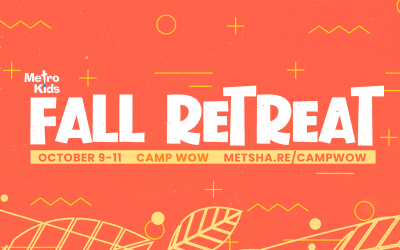 REGISTRATION NOW OPEN!Join us October 9-11 as we embark on a brand new adventure to Camp WOW! This year's Metro Kids Fall Retreat is for 1st-2nd Grade (with adult companion) & 3rd-5th Grade children. We will start with a hayride, bonfire, s'mores, and a sing...